NOTE : 17/20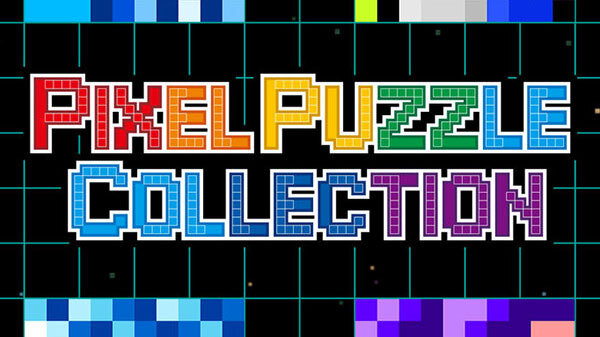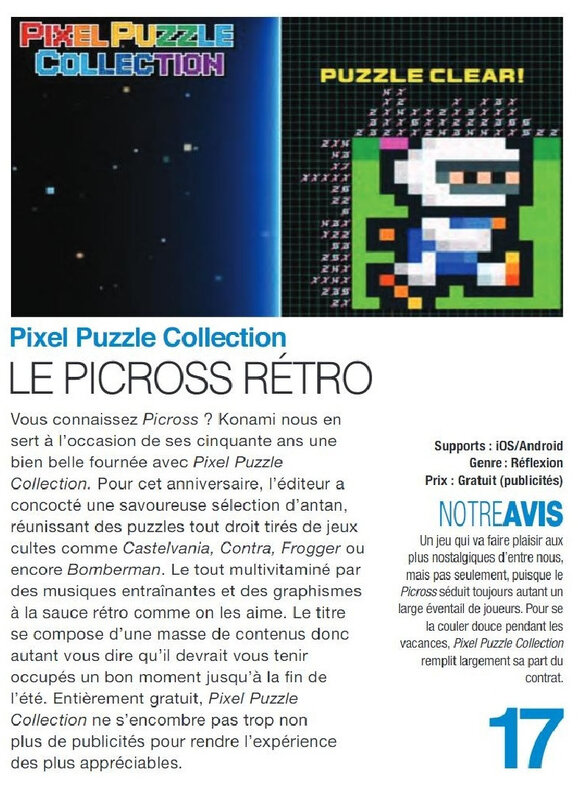 NOTE : 17/20
NOTE : 18/20
Un Pas Fragile est un jeu d'aventure où l'on suit les péripéties d'une petite grenouille. Celle-ci souhaite devenir une danseuse classique par-dessus tout, accompagnez la dans l'accomplissement de son rêve. Une expérience narrative courte mais profonde.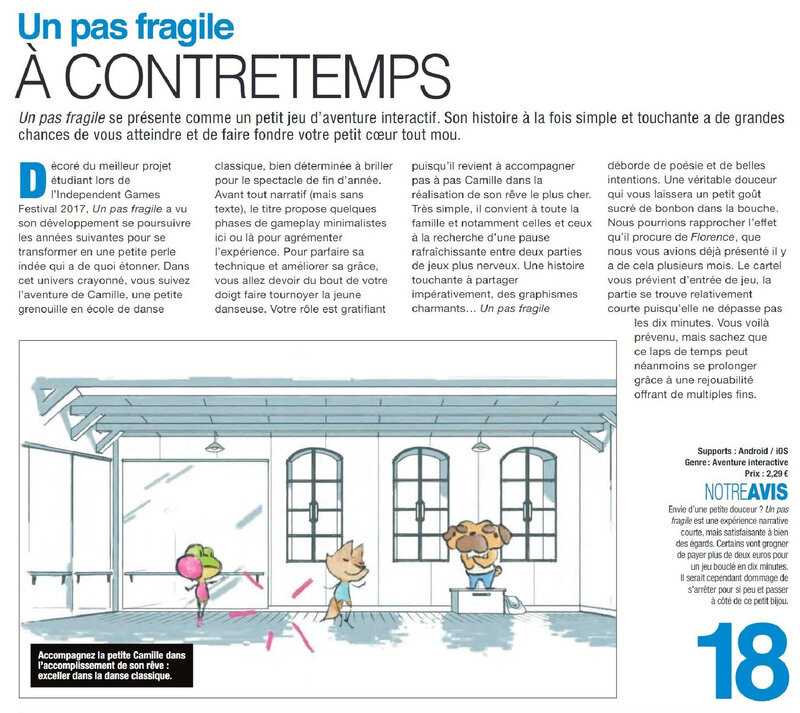 NOTE : 18/20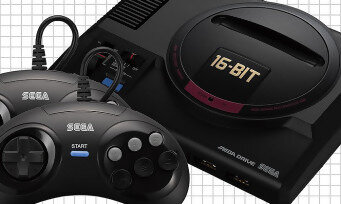 DATE DE SORTIE : 04/10/2019 dans le monde entier.
PRIX : 59.99 € (avec 1 manette) , 79.99 € (2 manettes)
CONSOLE :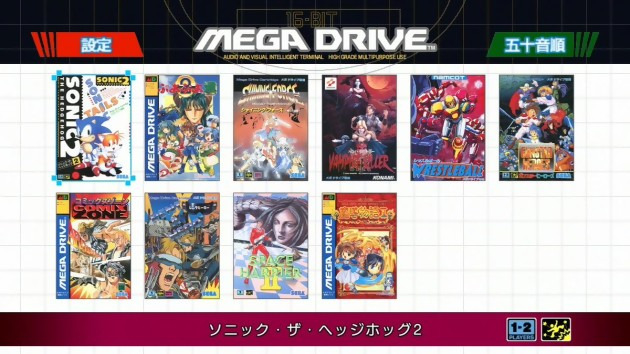 FICHE TECHNIQUE :
- MANETTE : six boutons Retro-Bit compatible
INCLUS :
- 1 câble HDMI pour relier la console à la TV en HD
- 2 manettes à 3 boutons

- 1 câble USB pour recharger les manettes
- 1 câble micro USB pour l'alimentation électrique de la console
FONCTIONS :
- Affichage possible en 16/9 ou en 4/3
- Filtre à activer ou non pour le rendu des vieilles tv
- changer d'arrière plan
- Plusieurs slots de sauvegarde rapide par jeu
HISTORIQUE :
- 13 Avril 2018 : Annonce de la console par SEGA
42 JEUX :
- Alex Kidd in the Enchanted Castle
- Alisia Dragoon
- Altered Beast
- Beyond Oasis
- Castle Of Illusion Starring Mickey Mouse
- Castlevania : Bloodlines
- Columns
- Comix Zone
- Darius
- Dr Robotnik's Mean Bean Machine
- Dynamite Headdy
- Earthworm Jim
- Ecco The Dolphin
- Eternal Champions
- Ghouls 'n Ghosts
- Golden Axe
- Gunstar Heroes
- Kid Chameleon
- Landstalker : Le trésor du Roi Nole
- Light Crusader
- Mega Man: The Willy Wars
- Monster World IV
- Phantasy Star IV: The End of the Millennium
- Probotector
- Puyo Puyo 2
- Rent A Hero
- Road Rash II
- Shining Force
- Shinobi III : Return Of The Ninja Master
- Sonic The Hedgehog

- Sonic The Hedgehog 2
- Space Harrier 2
- Spinball
- Street Fighter II : Special Champion Edition
- Streets Of Rage 2
- Strider
- Super Fantasy Zone
- Tetris
- Thunder Force III
- ToeJam & Earl
- Vampire Killer
- Vectorman
- Virtua Fighter 2
- World Of Illusion starring Mickey Mouse and Donald Duck
- Wonder Boy in Monster World
- Wrestleball
VOICI DANS CETTE PAGE LA LISTE DES NOUVELLES CONSOLES ET MACHINES DE JEUX VIDEOS !
Ces consoles présentées sont confirmées mais en attente de développement et création .
(Cliquez sur les titres en dessous pour + d'infos)
NOTE : 12/20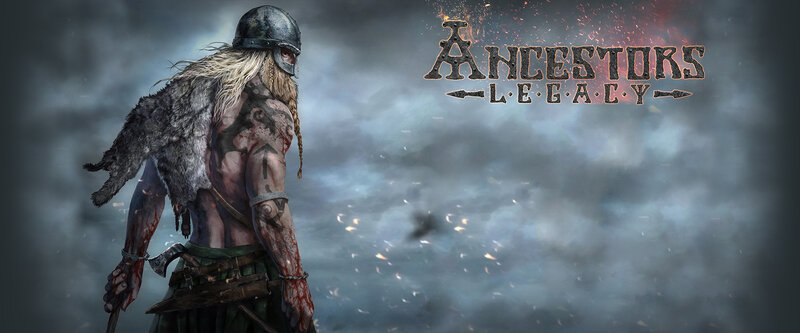 Ancestors Legacy est un jeu de type stratégie, jouable en solo ou en multi. Le jeu vous emmène à l'époque médiévale aux commandes d'une des 4 factions ici proposées : Vikings, Anglo-saxons, Germains et Slaves, disposant chacun d'une campagne dédiée. Le titre compte également proposer une immersion supplémentaire en nous permettant à tout moment de basculer en vue à la troisième personne pour observer nos troupes de plus près.
les guerres médiévales sur consoles
Le nouveau jeu de Destructive Creations propose de se plonger dans le Moyen-Age et de prendre entre ses mains la destinée de l'un des quatre peuples mis à disposition du joueur.
Fruit de l'imagination d'un petit studio de développement polonais, Ancestor's Legacy est un jeu de stratégie en temps réel qui se démarque des autres jeux du genre par son concept atypique. Le titre se débarrasse en effet de l'aspect gestion pour se concentrer uniquement sur le micro-management de troupes. Dans Ancestor's Legacy, vous contrôlerez de petites escouades de différents types (archers, fantassins, cavaliers et armes de siège), qu'il faudra apprendre à diriger sur le champ de bataille pour écraser ses ennemis.
Nous n'avons donc pas ici affaire à un autre clone d'Age of Empires ni à un jeu de gestion complexe. A mi-chemin entre un Halo Wars et un Three Kingdoms, Ancestor's Legacy tente un pari audacieux : celui de proposer une expérience de jeu à la fois immersive et tactique.
Au niveau de l'immersion, le studio remplit son contrat. Dès la séquence d'ouverture du jeu – un long plan séquence qui plonge le joueur au cœur d'un débarquement de vikings en Angleterre -, le joueur est immergé au cœur de l'action. Ancestor's Legacy surprend d'ailleurs au niveau de sa réalisation, avec sa mise en scène stylisée qui s'inspire des blockbusters hollywoodiens, sa direction artistique inspirée et ses décors superbes. Nous n'avons jamais eu l'impression de jouer à un jeu à petit budget, bien au contraire même!
Pour ce qui est de la tactique en revanche, Ancestor's Legacy peine à convaincre. D'une part, parce que son interface n'est pas forcément évidente à cerner. Il faudra plusieurs heures de jeu pour commencer à vraiment maîtriser les commandes du jeu. Ensuite, parce que contrôler les unités sur le terrain n'est pas aussi évident qu'on aurait pu l'imaginer, en particulier au pad. A choisir, préférez la version PC, le combo clavier/souris faisant toujours autant des miracles. Même au clavier toutefois, vous éprouverez des difficultés à placer correctement vos troupes et surtout à activer les bonnes compétences de vos unités. Car c'est un fait, sur le terrain, l'action a tendance à devenir très brouillonne. Ainsi, il ne sera pas rare que l'on actionne par erreur une compétence dans le feu de l'action, sans même s'en rendre compte, parce que deux bataillons se sont juxtaposés. Malgré le très petit nombre d'unités à contrôler sur le champ de bataille, l'action n'est souvent pas très lisible à l'écran.
A ce vilain défaut viendra très vite s'en ajouter un second : la tactique reste au second plan et le réalisme n'est pas toujours au programme. Très tôt, on aura ainsi fait de remarquer que "foncer dans le tas" reste une option tout à fait envisageable dans la campagne solo. Ancestor's Legacy n'a très clairement pas l'aura d'un Total War. Le jeu de Destructive Creations reste très simple dans sa construction. En réalité, vous aurez d'ailleurs les meilleurs résultats avec le combo archers / fantassins, qui fait des miracles. Les cavaliers n'ont étrangement que très peu d'utilité ici, les armes de siège sont difficiles à manipuler et de façon générale, les stratégies les plus complexes sont souvent trop difficiles à mettre en place en raison des contrôles compliqués du jeu.
Les puristes auront du mal à avaler la pilule. D'autant plus que les bonnes idées florissaient. Des flèches, qui peuvent toucher aussi bien les ennemis que vos alliés, aux massacres des civils qui se fera automatiquement par les troupes de barbares sanguinaires, en passant par la spécialisation des troupes, qui peuvent se spécialiser dans un domaine au choix (dégât, défense, vitesse, précision). Autre concept sympathique : il est possible d'ordonner à ses troupes différentes postures selon que l'on soit en ordre d'attaque ou de défense, d'activer des compétences spéciales – comme le mode berserk – et même de changer d'armure, en optant par exemple pour une armure plus lourde, et plus résistante face aux dégâts en lieu et place d'une armure légère, plus efficace pour se mouvoir plus rapidement sur le champ de bataille.
En soi, Ancestor's Legacy n'est pas forcément un mauvais jeu, mais son ergonomie ratée et son manque de rigueur le destinent plutôt à un public de néophytes, pas trop regardants sur le fond.
Cracher sur le jeu sans lui reconnaître de qualités serait toutefois une grossière erreur tant le titre édité par 1C Company se démarque des autres productions ne serait-ce que par sa direction artistique, sa caméra qui nous immerger au cœur d'affrontements sanglants, ses quelques bonnes idées et surtout son contexte totalement atypique.
Car ici, pas de Romains ni de Grecs. Le joueur prendra la destinée de 4 peuples entre ses mains. Il pourra ainsi choisir entre les Vikings, les Saxons, les Germains et les Slaves. Chaque peuple dispose de ses atouts et ses défauts. L'équilibrage des troupes reste toutefois moyen. Reste que, dans la pratique, diriger des peuplades barbares et massacrer tout sur son terrain reste très fun.
Paradoxalement, si les premières minutes de jeu font grimper le thermostat, le joueur retombera très vite de ses lauriers dans la campagne solo, certes joliment mise en scène, mais atrocement bancale. Les objectifs se suivent et se ressemblent et on finit par très vite s'ennuyer face à une campagne qui manque d'imagination. En multijoueur, le jeu se révèle un peu plus intéressant, en particulier à 6 joueurs. Mais encore faudra-t-il trouver d'autres personnes avec qui jouer…
Dans ces escarmouches, l'objectif sera simple : capturer le plus rapidement possible des villages pour obtenir des ressources supplémentaires, recruter des troupes, puis partir à l'assaut des forces ennemies par raids successifs. Nerveux, le jeu d'1C Company se révèle beaucoup plus riche stratégiquement parlant à plusieurs joueurs. On notera au passage que l'assaut des villages représente en soi parfois un véritable défi puisque ceux-ci se défendent également des assaillants. Il faudra donc à la fois gérer conquêtes, affrontements et protection des villages conquis pour remporter la partie. Un concept intéressant. Malheureusement, les cartes restent peu nombreuses, relativement petites, l'IA est désastreuse et aucun mode alternatif n'est au programme… Autrement dit, vous aurez relativement rapidement fait le tour du jeu si vous n'accrochez pas au solo. Alors certes, le tarif de 34,99€ permet de pardonner certains défauts du jeu, mais pas tous.
Conclusion
Sorti de nulle part, Ancestor's Legacy s'impose comme un jeu de stratégie en temps réel très séduisant de par son contexte atypique, qui nous propose de réexplorer le Moyen-Age à travers quatre factions. Visuellement, le jeu est superbe et son petit prix (34,99€) donnera sans doute furieusement envie aux amateurs du genre de s'y essayer. Attention toutefois, car il ne s'agit pas d'un successeur à Age of Empires. Le jeu édité par 1C Company base son gameplay sur la micro-gestion et le déploiement d'escouades sur le champ de bataille. Si sur le papier, Ancestor's Legacy avait tout pour séduire, son contenu trop limité, son interface mal pensée et ses tactiques trop brouillonnes en font malheureusement un titre moyen, qui a néanmoins le mérite d'essayer quelque chose de différent.

Les + :
Une réalisation soignée, couplée à une jolie direction artistique

Une bande son efficace

Une mise en scène accrocheuse

Un contexte historique savoureux

Un prix doux (34,99€)
Les - :
Une campagne solo pas très excitante

L'interface, mal pensée

Un gameplay pas assez développé

Pas très agréable à jouer au pad

Un contenu trop limité
NOTE : 12/20
NOTE : 10/20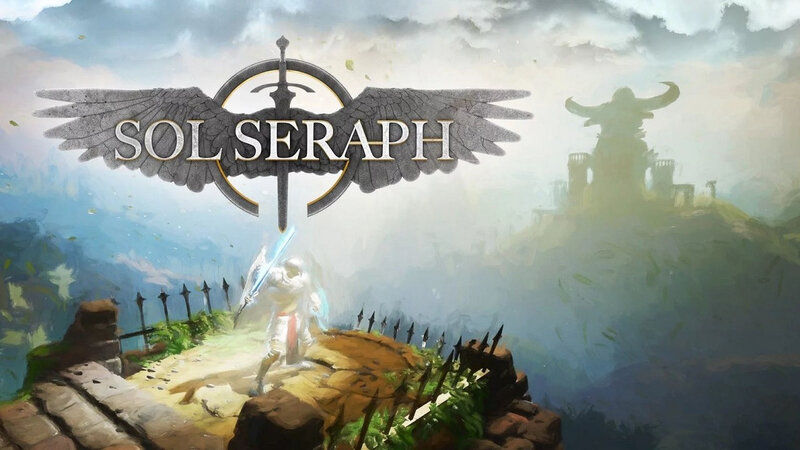 SolSeraph est un jeu d'action et de stratégie, le joueur explore un univers à l'époque des légendes. Lorsque le ciel et la terre s'unirent, ils créèrent le monde sur lequel on vit aujourd'hui. Puis les dieux prirent en main la création de leurs parents, bien que la plupart soient arrogants et cruels. Le joueur incarne Hélios un demi-dieu, venu pour aider l'humanité contre les dangers du monde.
Demi-dieu, mais demi-déception
Le mélange de deux genres que tout sépare.
Alors que des nostalgiques de l'ère des platformers 2D peuvent se rappeler leurs vieux souvenirs d'enfance avec des titres comme Shovel Knight ou Bloodstained: Ritual of the Night, certains studios (comme ici ACE Team) n'hésitent pas à nous proposer le leur, nommé SolSeraph. Cependant, est-il à la hauteur des standards du genre déjà bien implantés sur la scène indépendante ?
Conditions du test : Un peu moins de dix heures nous on permis de terminer la totalité des zones de SolSeraph.
Sauver les Hommes, sauver le monde !
Au commencement, les dieux créèrent la terre, puis l'Homme. Et après avoir été assurés que cette nouvelle espèce pouvait survivre seule, ils disparurent. Quelques temps plus tard, les Jeunes Dieux, jaloux des hommes, divisèrent cette civilisation naissante en tribus et s'approprièrent la Terre.
C'est dans ce contexte que nous incarnons Hélios, demi-dieu dont la quête est de reprendre la Terre et d'unifier les tribus, tout en bottant quelques fesses divines au passage. Le joueur devra donc voyager de région en région afin d'aider les habitants. Celles-ci pourront être jouées dans l'ordre que l'on souhaite.
Bien que le titre soit un platformer 2D voulant titiller la nostalgie des joueurs, il parvient tout de même à ne pas tomber dans la facilité des graphismes rétro en proposant une patte graphique plutôt jolie avec des décors agréables à regarder. Et si les différents personnages que croisera Hélios sur sa route ne sont pas inoubliables, leurs dialogues auront tout de même le mérite de nous faire lâcher quelques sourires.
Si l'on pouvait penser que l'aspect plateforme est privilégié dans SolSeraph, il n'en est rien du tout une fois le jeu commencé. En effet, le titre concentre la moitié de son gameplay autour d'un tower defense. Une initiative bienvenue, surtout quand on connaît la rareté d'un tower defense qui ne soit pas en vue TPS de nos jours.
Cette fois-ci, notre objectif ne sera pas de parcourir un niveau mais de protéger la tribu de la région. Pour ce faire, Hélios devra survoler la zone tout en construisant bâtiments et défenses afin de protéger le feu, le cœur du village.
Vous ne devrez cependant pas toujours rester sur la défensive puisque les ennemis continueront d'arriver depuis des camps éparpillés sur la carte et protégés par un brouillard, empêchant Hélios d'attaquer. Le joueur devra alors étendre son village jusqu'au brouillard, et construire un temple pour le dissiper.
Notre demi-dieu pourra alors attaquer le campement ce qui déclenchera l'entrée dans un stage en 2D, qui pourra être soit une arène qu'il faudra nettoyer, soit un niveau classique en scrolling avec une arrivée au bout. Une fois tous les camps de monstres détruits, le niveau du boss sera débloqué, celui-ci demandera alors patience et concentration pour être complété.
Une fois le boss vaincu, celui-ci laissera la région en paix et vous pourrez passer à une autre zone du monde, tout en débloquant un pouvoir pouvant vous servir durant les phases en 2D. Cependant, la plupart des pouvoirs obtenus ne sont pas assez utiles ou trop chers en énergie.
Un demi-jeu ?
En somme, SolSeraph nous propose un tower defense on ne peut plus classique avec des fonctionnalités assez minimes : de la nourriture est nécessaire pour pouvoir créer plus d'habitants, qui feront tourner vos différentes installations.
Et c'est là où le bât blesse : cette partie du jeu ne proposant pas assez de situations différentes, on aura tôt fait de trouver une stratégie qui marche la plupart du temps et d'en abuser jusqu'à conquérir entièrement la carte. Et le nombre assez limité de bâtiments constructibles ne sera pas là pour corriger le tir. Certaines régions (comme le désert ou la zone enneigée) tentent tout de même de diversifier un peu la manière dont est produite la nourriture, mais cela reste globalement la même chose.
Nous pouvons bien nous servir des pouvoirs de notre personnage, mais ceux-ci se comptent sur les doigts d'une main, ce qui ne révolutionnera pas notre manière de jouer. Bien qu'au départ, nous sommes rapidement dépassés par le chrono annonçant la prochaine vague, la facilité avec laquelle nous repoussons les troupes ennemies une fois les premières installations mises en place enlève tout sentiment d'accomplissement (qui sera réservé aux niveaux en 2D).
Un sentiment d'accomplissement que l'on ne retrouvera que rarement en affrontant les boss du jeu : on se contentera trop souvent d'enchaîner bêtement les coups d'épée en profitant des frames d'invincibilité que l'on reçoit lorsqu'on prend un coup.
Aussi, nous remarquons assez vite que si SolSeraph possède un gameplay en 2D proche de ce qui faisait chez les platformers rétros, il conserve néanmoins certains défauts de ces derniers dont nous nous serions bien passés. La frustration sera sûrement présente au cours des niveaux : les ennemis nous voient avant d'apparaître à l'écran. Une attaque à distance surprise viendra donc très souvent freiner votre progression, laissant aux autres ennemis le temps de vous enchaîner juste après.
Attendez-vous aussi à tomber des plateformes au moindre coup porté par un monstre, causant une mort certaine sur certains passages, vous obligeant alors à recommencer le niveau depuis le début ; car oui, les checkpoints sont rares, très rares.
Ajoutez à cela le fait que les ennemis apparaissent à l'écran en changeant de plan (et sont donc intouchables le temps de leur apparition), ce qui vous ajoutera une bonne dose de frustration dû à des morts parfois injustes. Nous pouvons aussi rajouter à notre liste un level design dans les phases 2D manquant cruellement d'idées : les changements de régions sont presque uniquement visuels et n'apportent quasiment rien ni au bestiaire ni au gameplay, et pourraient presque être qualifiés de skins.
A cause de son côté tower defense en-dessous des standards et de ses phases 2D parfois frustrantes, SolSeraph est un titre difficile à recommander. Cependant, les fans des anciens jeux de plateformes pourront tout de même être séduits par le soft, mais il ne faudra pas en attendre trop.
Bien que le titre se révèle souvent frustrant et possède une partie tower defense que j'aurais bien aimé passer, je me suis plutôt bien amusé sur SolSeraph. Autant l'avouer : j'ai eu beaucoup de mal à contrôler Hélios au début de ma partie à cause de son esquive (que je trouve assez contre-intuitive, mais cela relève de mon avis personnel), mais lui ai facilement pardonné ses défauts. Cependant, je ne le recommanderais pas aux amateurs de tower defense et seulement aux acharnés du platformer 2D.
NOTE : 10/20